San Siro House is perfectly located to explore this fascinating region, which holds the secret to so many other names: Florence, Siena, Pisa, Botticelli, Giotto, Leonardo, Michelangelo, Raphael, Signorelli, Dante, theMedici, the Etruscans, early music, Chianti wines and culinary art.
Each town has a distinct history and architecture and each village a different atmosphere and a different sensibility. There are a multitude of museums, churches and cathedrals, not to mention tempting food and delicious wines.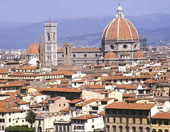 Florence
Florence is not only prestigious city of art, generally acknowledged to be one on the finest in Italy; it is also, and principally, a source of genius.
Its many marvels include Santa Maria del Fiore with its dome by Brunelleschi, the Baptistery, The Palazzo Vecchio, Giotto's Campanile, the Ufizzi, the Medici Chapel, Santa Croce, and the Ponte Vecchio.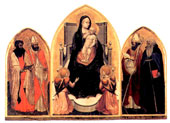 Monastery of Vallombrosa
(958 meters above see level) lies on the western slopes of the mountain chain which begins in the Central Apennines .The area is famous for its magnificent woods of age-old trees which surround the ancient monastery founded by St. John Gualberto in the 11th century. Remodeled in successive centuries it is at the present the seat of the Monastic Order of the Vallombrosiani.
Roman Church in Cascia
This12C. Romanesque church is situated in Cashia (Regello). Church is dedicated to S.Pietro, where one of the famous trittico of Masaccio(14C.) is exposed.
LINKS – LINKS
San Gimignano
SanGimignano is surrounded by gently-rolling countryside dotted with wines and olive trees. Its 14 grey stone towers set on a hilltop are enclosed within an outer wall including five gates. It has all the charm of a small medieval town, built mainly of brick, and has been amazingly well preserved. A number of great painters from Siens and, later, Florence, worked in San Gimignano where they produced great masterpieces.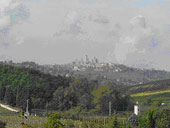 Chianti
The Chianti region is famous for its excellent vine. The vineyards which produce it extend well beyond the boundaries of geographical region, which lies between Florence and Siena. The central area, which produces Chianti Classico (including the towns which set up the Chianti League in the 13C.), coincides almost exactly with the geographical region from which the vine takes its name. It is bisected from north to south by the via Chiantigiana. The landscape shows that the soil has been tilled for many centuries. Among the forest of chestnut, oak, pine and larch which grow on the slopes that are least easy to cultivate, there rows of vines and silvery-green olive trees carpeting the gently-rolling the hillsides which are also dotted with cypress tress. Small villages and a few superb estates around a castle, villa or abbey blend harmoniously into a natural environment partially tamed by hand of man.